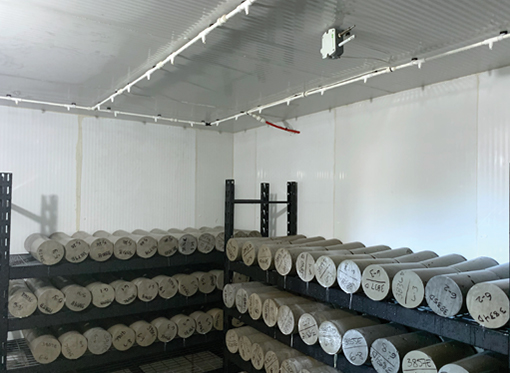 UltraMist Moist Room Control systems utilize high efficiency misting technology to control temperature and humidity levels.
UltraMist™ Moist Room Control Benefits
The system controls the temperature to 23+/-2°C per ASTM C511.
The system also maintains a relative humidity level of not less than 95%.
An hourly 15-second mist cycle keeps your core samples looking and feeling moist.
All required parts are included.
Easy to install.

Facility Requirements
110V 60HZ 20 amp outlet within 4 feet of the control panel
Dedicated 40-gallon water heater set to a minimum of 125°F
Hot and cold water plumbed near the control panel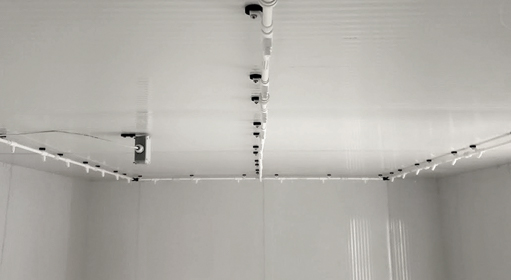 All Required Parts Are Included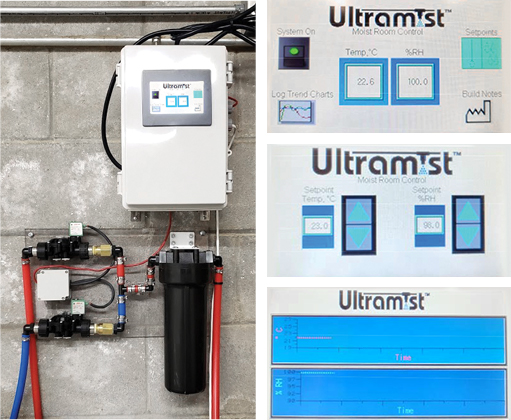 Control Panel
A programmable logic controller (PLC)
LCD touch screen
Heated probe temperature and humidity sensor
Sediment filtration to prohibit nozzle clogging
Two solenoid valves for hot and cold water
Mist Bar
UltraMist™ mist bar and nozzles are proven reliable since 1979.
The 1/2" OD bars are easily connected with push-fit technology.
Fifty-two feet of mist bar is provided. A nozzle is located every foot.
The provided mist bar and nozzles cover a typical 10' X 15' room.
Data Logging
The PLC allows for real-time temperature and percent relative humidity data logging to be seen on the control panel. In addition, data logging of the temperature and percent relative humidity is recorded on a USB drive in 15-minute intervals.
NOTE: PLC controls temperature by regulating hot and cold water valves. Your moist room will only get as cold as your cold water and as hot as your water.